With a partner read the three Harry Potter and the Philosopher's Stone blurbs, noting the sorts of elements that the blurb has that makes it a good summary. For each one write down any key words or phrases and record why they have chosen them, being ready to share with the rest of the class.
Questions to ask yourself and your partner:
Why did you choose that word or phrase?
Why is it important?
Which is the most successful summary? Why?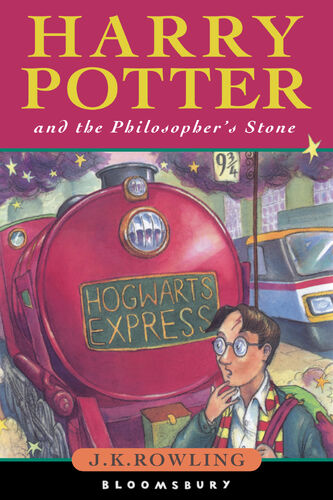 Harry Potter and the Philosopher's Stone
When mysterious letters start arriving on his doorstep, Harry Potter has never heard of Hogwarts School of Witchcraft and Wizardry.
They are swiftly confiscated by his aunt and uncle.
Then, on Harry's eleventh birthday, a strange man bursts in with some important news: Harry Potter is a wizard and has been awarded a place to study at Hogwarts.
And so the first of the Harry Potter adventures is set to begin.

Harry Potter and the Philosopher's Stone
Harry Potter has never played a sport while flying on a broomstick. He's never worn a Cloak of Invisibility, befriended a giant, or helped hatch a dragon. All Harry knows is a miserable life with the Dursleys, his horrible aunt and uncle, and their abominable son, Dudley. Harry's room is a tiny cupboard under the stairs, and he hasn't had a birthday party in ten years.
But all that is about to change when a mysterious letter arrives by owl messenger: a letter with an invitation to a wonderful place he never dreamed existed. There he finds not only friends, aerial sports, and magic around every corner, but a great destiny that's been waiting for him… if Harry can survive the encounter.

Harry Potter and the Philosopher's Stone
Harry Potter thinks he is a perfectly normal boy. Unfortunately, he lives with his hot-tempered Uncle Vernon, his nosy Aunt Petunia and his bullying cousin, Dudley, who all make Harry's life miserable. Living in a stuffy old cupboard under the stairs is just one of the reasons why Harry hates living with the Dursleys. Unusual things happen to Harry, such as an incident with a snake at the zoo which resulted in him being locked in the cupboard for a month! Then, some unusual letters start arriving for Harry; this confuses and irritates Uncle Vernon so he takes the family somewhere where he thinks no-one will find him but he was greatly mistaken. A giant-sized man with beetle black eyes goes to tell Harry some very astonishing news: Harry is a wizard! Soon, Harry has lots of adventures in his new wizarding school, Hogwarts, but not all is fun and games. Someone is planning to steal a special object being hidden in Hogwarts… but who is it?