View the Oscar Winning short movie Piper on YouTube (3:20 mins) about a baby sandpiper shorebird that has a fear of the ocean. Think about whether the baby sandpiper took more than it needed for a feed?
Choose a sea creature you are familiar with write a story about a problem they may face. Don't forget to add a possible solution for their problem.
If you don't know much about sea creatures, you can use these clips to find out more about some amazing sea creatures: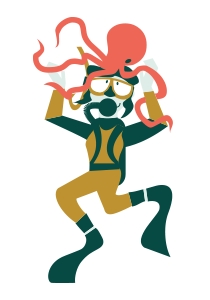 You can also download and print outlines of the National Science Week characters to colour.
(Copyright: Australian Science Teachers Association 2020, except where indicated otherwise. This work is licensed under a Creative Commons Attribution NonCommercial 4.0 International licence.)